Are you looking for SAP BASIS Training in Chennai ?
Welcome to the professional world of SAP Basis. Enhance your profile by joining hands with our real time Corporate SAP Experts. They will enlighten your SAP Career by sharing their professional experience during training sessions. Finally you reached the right place for SAP BASIS Training in Chennai.
Are you still searching for Best SAP BASIS Training in Chennai? 
Do you want to become an Expert in SAP BASIS module? 
Are you struggling to cope up with your current SAP projects?
Click here to view our course contents carefully, or Reach our Technical Experts @  8122241286/9003085882.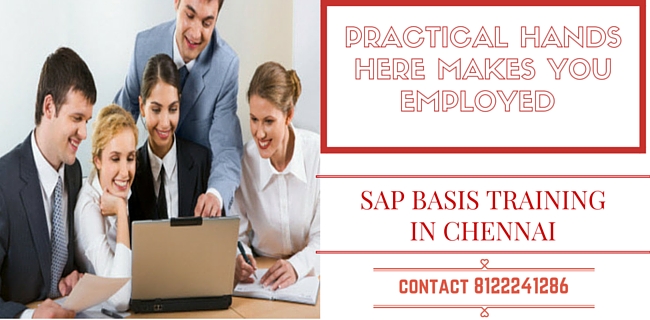 Why Prefer Training with US ?
Training by Leading SAP Basis Architects

Topic based Training in Chennai

Long-Term Technical Support

Placement Assistance

End to End – Project Support

 
Best SAP BASIS Training institute in Chennai with advanced level topics
We can support and provide customized sap basis training institute in Chennai supporting to the people who want to learn the end to end techniques in SAP BASIS module. In Sap basis you learn concept of SAP Client management, client copy, deletion, user management & authorizations, password restrictions, running background jobs in USER, transport management systems (TMS), remote function call, sap upgrades, kernel upgrades & data migration.
Who can Learn SAP BASIS Training in Chennai ?
People who have domain experience in networking can learn SAP BASIS.

People who have basic knowledge in system administration & networking domains, they are the right people to learn this module.

SAP basis is not a programming knowledge. But we should know the data and system backend knowledge to understand more in SAP basis module.

Reach us for the best SAP BASIS Training institute in Chennai
Opportunities in SAP BASIS Module in Chennai ?
SAP BASIS is the technical module in SAP so obviously there is more opportunities for SAP BASIS. Most of the companies around the globe migrating to SAP ERP tool. SAP BASIS provides more on site opportunities too.  Since basis is a technical module without this technology we can't implement the SAP functional modules. So we have more openings in all the sap implemented companies across the globe.
SAP BASIS Training in Chennai | Best SAP BASIS Training in Chennai | Real Time SAP BASIS Training in Chennai | SAP BASIS Training institute in Chennai | SAP BASIS Training Center in Chennai |